"100 days, 100 women". This is a project everyone should see. Rori, a cartoonist and freelance illustrator, wanted to shine a light on powerful women in history who don't get the recognition they deserve.
Up to now, 44 portraits have been created from many inspiring women including the first woman in space (Valentina Tereshkova), civil rights activists (such as Dolores Huerta and Ida B. Wells) and politicians (former prime minister of Pakistan Benazir Bhutto). This project shows us amazing role models, most of which are not found in history books.
You can follow Rori on  Twitter, Facebook and Tumblr.
Below you can find a few impressive illustrations selected from the "100 days, 100 women" project:
Day 33
Elizabeth "Bessie" Coleman (1892 – 1926) – Civil Aviator
She was the first female pilot of African American descent
First female of Native American descent to hold a pilot license.
She was also a star of early aviation exhibitions and air shows.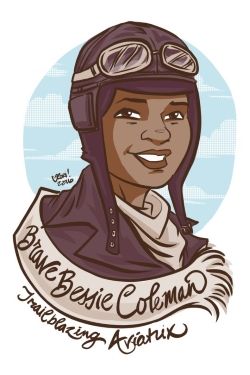 Day 34
Grace Brewster Murray Hopper (1906 – 1992) – Computer Scientist
She was one of the first programmers of the Harvard Mark I computer in 1944.
She invented the first compiler for a computer programming language, and was one of those who popularized the idea of machine-independent programming languages which led to the development of COBOL, one of the first high-level programming languages.
Day 35
Murasaki Shikibu (973 – c. 1014) – Japanese novelist, poet and lady-in-waiting at the Imperial court during the Heian period.
She is best known for writing The Tale of Genji.
Day 39
Elizabeth Jean Peratrovich (1911 – 1958) – Civil Rights Activist
Worked on behalf of equality for Alaska Natives.
She was credited with advocacy that gained the passage of the first anti-discrimination law in the United States: the territory's Anti-Discrimination Act of 1945.